IWCO welcomed more than 60 clients representing a range of industries and many Fortune 500 companies to an Open House and Education Event July 26 – 27 to share our excitement about our more than $40 million investment in expanded marketing agency services, best-in-class postal optimization, and our industry-leading direct mail production platform. The event also shared insight from postal experts on how the U.S. Postal Service is re-imagining its processing and logistics networks to be more efficient and options for new approaches for postage pricing.
State-of-the Art Production Platform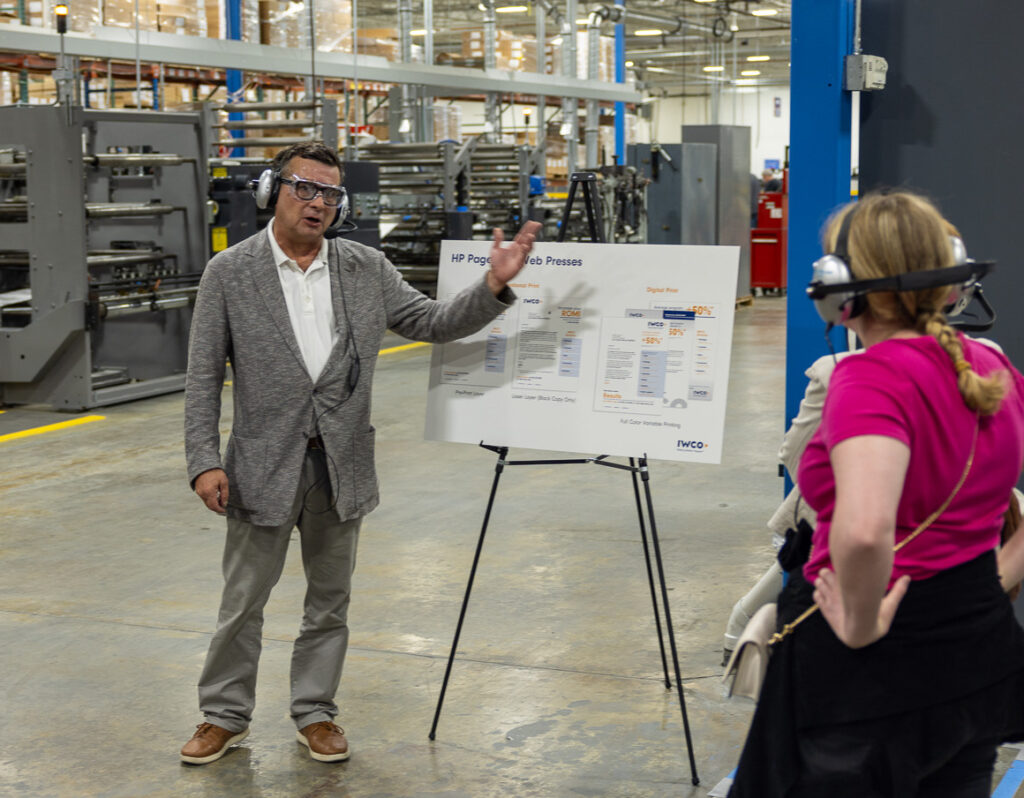 At the heart of IWCO's Open House in Chanhassen was the opportunity for senior marketers to experience first-hand the cutting-edge production technology resulting from our $40 million investment. While touring our Chanhassen facility, guests learned how this industry-leading direct mail execution platform drives full-color one-to-one message and image variability throughout the mailpiece, including letters, promotional cards, inserts, and envelopes.
These clients could see how our all-digital approach to direct mail production streamlines campaign management through a single process, decreasing floor space, labor, and time to finish the product by combining operations to a single machine and production process while enhancing our emphasis on quality.
We shared that combined with our data, strategy, and marketing technology this production platform enables shortened manufacturing timelines, accelerating speed-to-market from data to in-home delivery. It also empowers deeper levels of personalization across channels, while creating marketing campaigns that gain attention, and more importantly response, from recipients by delivering the right message to the right recipient at the right time.
Mailing Smarter to Improve ROMI
Wes Sparling, IWCO's CMO, took the opportunity speak to our guests about leveraging data and technology to mail smarter, thereby maximizing their marketing budgets, even amidst challenging economic conditions. Sparling urged marketers to harness the power of data by precisely selecting and targeting the most responsive audience segments, utilizing multiple data sources and attributes. Moreover, he emphasized the significance of hyper-personalized creative content and components tailored to each recipient, which serves to motivate prospects and customers to engage and respond.
To facilitate one-to-one messaging while supporting unlimited version complexity and volume flexibility, Sparling introduced TECHImpact, an advanced marketing technology application powered by Messagepoint. This comprehensive tool allows marketers to manage personalized messaging efficiently, ultimately boosting response rates and return on marketing investment (ROMI).
To further improve response and engagement, Sparling advocated for a robust program of scientific testing, which aids in understanding recipients' preferences and driving a deeper understanding of what is important to recipients. One approach that IWCO adopts is multivariate (MVT) testing, which helps marketers identify the most impactful factors, such as changes in product, offer, or audience, and swiftly implement them for maximum improvement.
Additionally, Sparling highlighted how IWCO's digital production platform facilitates cost-efficient instream testing regimens. By merging multiple creative versions into a single postal stream, it achieves lower production costs while enhancing postal efficiency and reducing postage expenses. Is it time to take your marketing program to the next level? Let IWCO show you how to mail smarter to fully leverage the power of direct mail in you marketing program. Contact us to learn how IWCO can Make Better Happen℠ for you!