Does the end of the school year have you singing Alice Cooper's, "School's Out for Summer"? Summer and music go hand-in-hand. In fact, in Kid Rock's song "All Summer Long" he sings, "We couldn't wait for night to come. To hit that sand and play some rock and roll." But thanks to the Phineas and Ferb theme song, we know all good things must come to an end, "There's a 104 days in summer vacation, and school comes along just to end it!"
Summer vacation will go by fast and retail marketers need to be finalizing their back-to-school strategy now.
Back-To-School Marketing 2022
Retail marketers mailed more than 14 million retail direct mail pieces to promote back-to-school shopping from June through September last year as reported by Comperemedia. The top three mailers for the last two years were Kohl's, Bed Bath & Beyond, and JCPenney. Here are highlights of their direct mail packages:
Kohl's postcard featured a peel-to-reveal label. Once peeled, it revealed either 30%, 20%, or 15% off your purchase when you used your Kohl's card: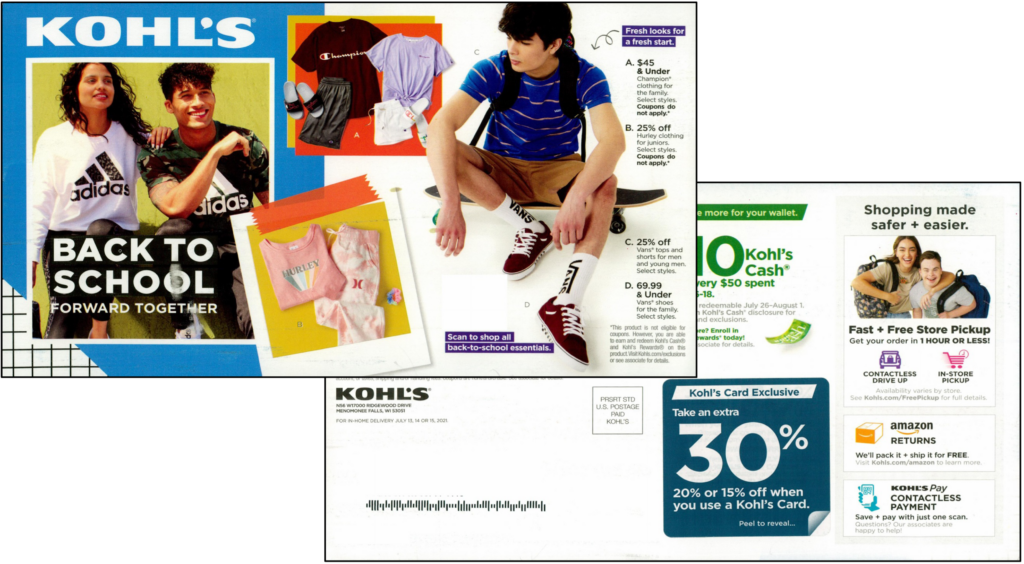 Bed Bath & Beyond incorporated a QR Code to promote their College Savings Pass and 20% off in their postcard:
JCPenney used a self-mailer package with perforated coupons to promote their Penney Cash Pass: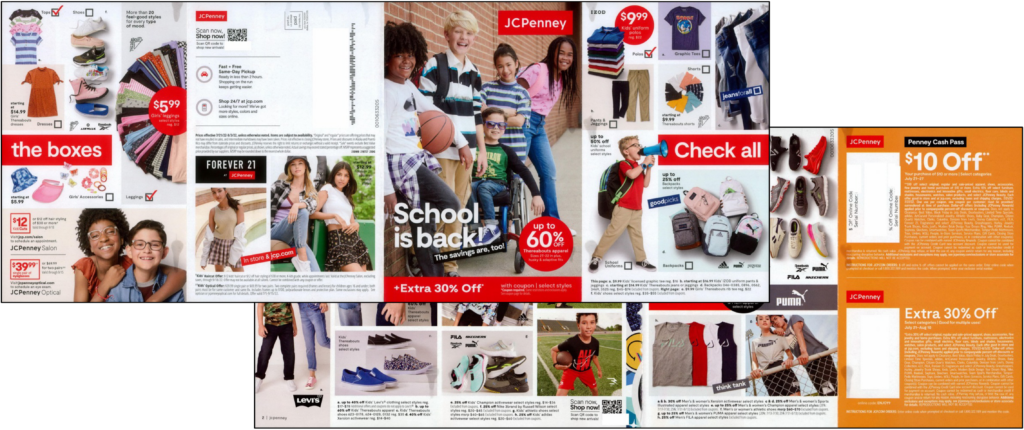 IWCO Helps Retail Marketers with Their Back-To-School Strategy
A successful back-to-school campaign requires using data to target high-value customers and prospects, presenting them with personalized, compelling messaging, and integrating those messages across channels to maximize impact. IWCO has the tools you need to deliver hyper-personalized communications through engaging direct mail and companion channels, so your campaign delivers the right message to the right consumers at the right time through the right channels to launch those customers and prospects into action.
Last year, we announced our owner, Cerberus Capital Management, invested $55 million in IWCO and we significantly enhanced the value we bring to all marketers in delivering response and business impact through our strategy, creative, data, and campaign execution. Our investments included:
Upgrading our industry-leading digital print platform with new state-of-the-art presses;
Building a hybrid in-line technology environment for finishing and inserting;
Expanding critical data and analytics, and marketing services offerings; and
Further investing in our unique postal logistics operation.
With postage costs increasing 25% in the last two years (and it is expected to continue at that pace for the foreseeable future), marketers need to change their approach and strategy. Mail less, but mail smarter. When marketers know their customers, they can fully embrace the power of data to drive variable imagery and messaging utilizing digital printing technology. One-to-one personalization will motivate customers to react and respond. Response rates will increase exponentially when marketers tailor their messages to each recipient.
Here are some examples of how to use data to drive variable imagery and messaging utilizing digital printing technology along with proven response tactics:
Data: through the power of data, marketers know their customers' spending habits…where they shop, how much they purchase, what offer enticed them to purchase, etc. Marketers can use this data to their advantage to motivate customers to react and respond to their direct mail offers. For example, use the customer's name in headlines, throughout the copy, and on cards or coupons. Include variable images to show 'like items' of past purchases and custom messages on their direct mail piece to get their attention.
Cards: feature personalized variable cards or coupons to promote a back-to-school shoppingdiscount for your customer and for their friend.
QR Codes: incorporate a QR Code so customers can scan and have their reward discounts ready to use at checkout.
Contact the team at IWCO to help with your back-to-school marketing strategy! Then relax, play some music, and enjoy your summer!